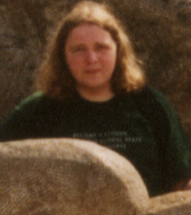 Gregory Escov
gryn@tangram.spb.ru
Doblesti 26/2-76
St. Petersburg 198328
Russia
Home : +7(812)142-0038
Work : +7(812)516-6981
Remember that local time in Russia is GMT +3
ICQ number #17007802
Hello.
I got this homepage only a couple of days (week in fact :) ago, so I haven't really created anything yet.
Initially I put this one here for Andrew Davie (Visit his fine Soviet Calculators site at http://www.comcen.com.au/~adavie/slide/calculator/soviet.html ), but now I think I'm going to write a few Soviet calculator articles of my own. Yes, expect something Real Soon Now (we all know what that means, don't we?)
Here I describe all the keys on MK-61 keyboard (other keyboards are very much like this one), and what those keys do in combination with other keys. If you actually intend to try anything described in other articles, you should probably read this one, for it gives all the "ASCII" names for MK buttons.
I already wrote one article about Soviet programmable calculators. This one tells about a strange mode you can get them in, "pseudo-writing mode".
This article will tell you about the various "big numbers" that you can get on your MK54-compartible calculators - that is, the numbers that can not be displayed properly and, according to documentation, can not even exist. But, as you see, there's quite a lot of stuff you can do with bignums...
You may also read a little info about myself (and, if you really don't have anything better to do, even look at the big version of the same photograph that's looking at you even now). You can also get to that page by clicking on that photo fragment to the left.
Meanwhile, here's a couple of useful links.
The best page on Net about, perhaps, the best CRPG ever written
FF5 is another great CRPG. Even though it's made in a classic japanese CRPG format, it still remains a classic
I bought AD&D 1st edition MC in the Paris shop. Guess where I found the address of this shop?
Gallery of jewish saviors of humanity. One size fits all.
Very opinionated and biased site, if you ask me. It's hard to get through this life without opinions of your own, though.

This page has been visited
times.